Hello LIMettes!
We've reached our final challenge of 2015 as this one runs for 2 weeks to
give us all time to enjoy the festivities and still sneak a little bit of crafting in!!!
So I would like to wish you all
a Wonderful Christmas & Festive Holiday Season!
I can't wait to see what you make of this challenge ... it's theme week
Homespun
This one completely floored me and I'm still not sure I've 'hit the nail on the head'
so to speak but Chrissie has kindly offered up the dictionary definition
on the main Less is More blog site HERE
I've gone with a few ideas so hope you feel inspired to play along - my first one
is quite literally 'spun' having tipped up all my boxes of bits and bobs to find my
flower 'spinning' loom and using Hemp twine I've fashioned this
flower with a button threaded to the centre.
It's not exactly postage-friendly hence the circular aperture and mounting on funky
foam to allow the flower to be stitched to the card base. The striped design paper
matches pretty well and adds a little more interest to the card. To finish a birthday
sentiment from Happy Little Stampers - a refreshing change from all the
Christmas sentiments I've been using these last few weeks!
BUT back to those old 'winter' wishes here with a random stamping of
'knitted' hats and scarves from the Clearly Besotted: Let it Snow set.
The sentiment is from Uniko: Pure Florals - Poinsettia which is heat
embossed in Hero Arts White EP and to finish a wrap around of bakers twine!
Last but not least and it seams that Anita, Chrissie and I were sharing
the same 'homespun' book this week as we've gone with a similar theme!
If I'm honest this one didn't turn out how I anticipated and I almost scrapped it!
Using the WPlus9 stacking hearts dies I've die-cut several layers of cardstock in
both sizes, topped with some 'old English country garden - style' design paper.
The sentiment is from Clearly Besotted: Home Sweet Home and stamped in grey to
give that dull / rustic / primitive look (I hope) along with the grey textured panel!
BUT ... I just couldn't resist the pop of colour from the ribbon scrap I found in my stash
which picks out the centre of the bloom brilliantly.
this week and having used 5 layers of each size of the Wplus9 heart dies
and a pierced rectangle from MFT Die-Namics I'm hoping this will work there!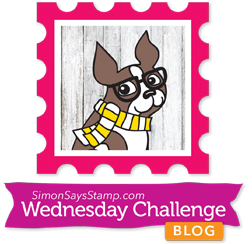 Ok I'll hand over to you talented crafters and please pop over to see what
my teamies have been up to too - I'm sure you'll love their takes on this theme.
Thanks as always for stopping by and catch up with you again soon!